About Pressure Printing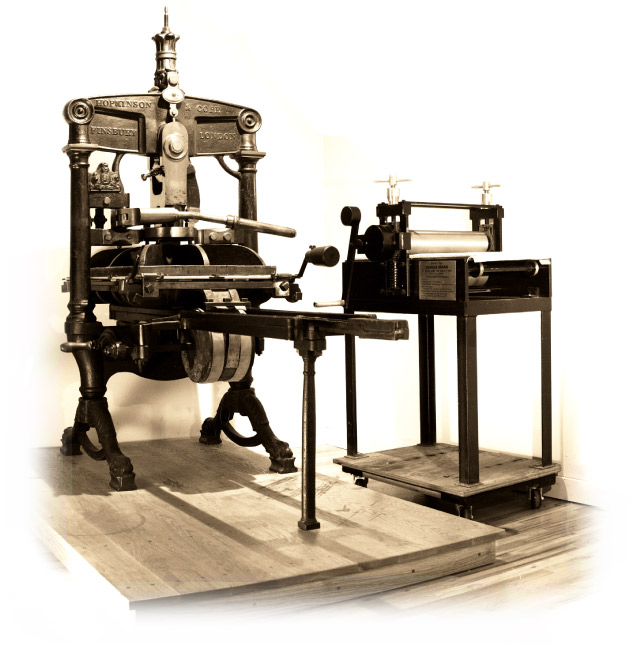 Since its founding in July 2000 by Brad Keech, Pressure Printing Inc. (PPI) has produced hundreds of traditional and experimental prints, featuring the work of virtually every leading artist of the Lowbrow and Pop Surreal art movements, which began in the late 70s in Southern California.
Rooted in traditional printmaking techniques yet fluent in contemporary commercial printing, PPI has developed a unique blend of printmaking unlike any other. Using antique etching and handpresses in concert with modern print and paper conversion presses, Brad combines multiple techniques to produce his creative vision.
Processes normally intended for mass production have been refined to integrate with age-old traditional printing techniques that date back to the very beginnings of printmaking. The processes are often painstaking and involve many passes through different presses producing one impression at a time, thus resulting in beautiful prints with depth and dimension not achieved by any electronic method. This evolving blend of traditional and non-traditional printing—unique to PPI—is the perfect complement to the artists' work.
Brad's extensive education and experience in illustration, graphic design, and printmaking allows him to collaborate as a peer with the artists. This involvement goes well beyond the printing itself and delves deep into the concept, design, and display of the many unique projects PPI has published. PPI creates truly unique and sought-after editions of the finest quality.
PPI's beautiful editions could not exist without the excellent craftspeople within PPI's universe. But on a daily basis, Brad works side-by-side in his studio with two extremely talented people.
Since 2006 Eric Portis has assisted PPI with his many talents—printing, writing, and photographing just to name a few—and is the creator of our new website. A thinker and an artist, Eric has been indispensable in helping PPI evolve into the place it is today. A fine artist in his own right, Eric creates photographs, drawing, prints, and animated pieces of art.
Another key person in the development of PPI is the talented and beautiful Gretchen Schaefer. For many years, Gretchen has been PPI's sole intaglio printmaker. When PPI creates the very finest of etchings, Gretchen is our go-to. She is pursuing her dream of becoming a full-time fine artist. Shown in many galleries, Gretchen's work can be viewed on her website.